Custom Zumo Robot set for control experiments (Assembled)
[
TSI-ZUMO-002-A-L
]
Custom Zumo Robot set for control experiments (Assembled)
[
TSI-ZUMO-002-A-L
]

Price: US$259.95(tax excluded)
Stock:13
Customized control Zumo Robot for control experiment
Part Number:
TSI-Zumo-002-assembled
<Overview>
A custom Zumo Robot set for control experiments,Arduino Leonardo is set to Zumo for Arduino which added a custom encoder to a 75: 1 metal gear motor to the most standard Arduino base zooming.
【Contents】
-Custom Zumo Robot (assembled) for control experiment
-Leonardo
-Micro USB Cable
-Charger / 4 rechargeable batteries (AA) set
The Zumo robot is a robot that is supposed to use Arduino as the main controller.
It measures less than 10 cm on each side and weighs approximately 300 g with an Arduino Uno and batteries (165 g robot alone)
.
It uses two 75:1 HP micro metal gearmotors to drive the treads, providing plenty of torque and a top speed of approximately 2 feet per second (60 cm/s), which makes it much more agile than competing robots like the Solarbotics Sumovore and Parallax SumoBot while still offering plenty of control. The Zumo robot includes a 0.036"-thick laser-cut stainless steel sumo blade mounted to the front of the chassis for pushing around objects like other robots, and a reflectance sensor array mounted along the front edge of the Zumo (behind the sumo blade) allows the Zumo to detect features on the ground in front of it, such as lines for following or edges for avoiding.
The Zumo control board is essentially a shield for the Arduino Uno or Leonardo, both of which can be plugged directly into the shield's male header pins, face down. (It is not compatible with the Arduino Mega or Due, but it can be used with older Arduinos that have the same form factor as the Uno, such as the Duemilanove.) The shield includes dual motor drivers, a buzzer for playing simple sounds and music, a user pushbutton, and a 3-axis accelerometer, gyro and compass. It also boosts the battery voltage to power the Arduino and breaks out the Arduino I/O lines, reset button, and user LED for convenient access and to accommodate additional sensors.
Although this product does not require assembly and soldering,it requires only Arduino main unit and 4 AA batteries (not included in this product).
<Characteristic>
75:1 HPMicro Metal GearMotor more output speed・Contorl Performance added to power
Usingthe 6 photo reflector arrays,Zumo can detect differences due to reflectance directly from below sumo-blade. In addition, with sumo - blade,Line tracing is possible by detecting the edge of a line
Complete DRV8835 dual motor drivers capable of delivering enough current for the Zumo's two high-power gearmotors.
Piezo buzzer for producing simple sounds and music. The buzzer is controlled by one of the Arduino's PWM outputs, so tones can be generated in the background without taking up a lot of processing power.
LSM303DLHC 3-axis accelerometer and 3-axis magnetometer that can be used to detect impacts.
Compass is a motor,Although it is not suitable for accurate navigation due to interference of peripheral equipment such as battery etc., it is possible to show rough orientation in many environments by performing appropriate measurement
Optional user pushbutton on pin number 12.
7.5 V boost regulator for powering the Arduino from the Zumo's 4 AA batteries.
Convenient access to Arduino I/O lines, the pin 13 user LED, and the Arduino reset line via the shield.
General-purpose prototyping areas and an expansion area at the front for connecting additional sensors.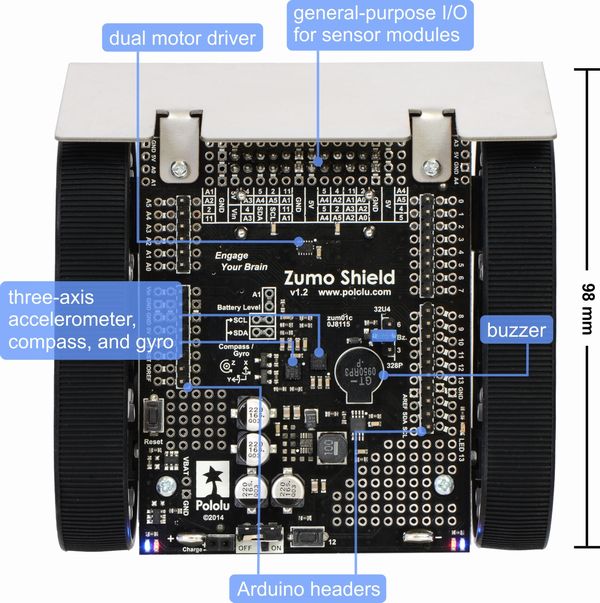 <Accessories not included in this product>
The following must be get it separately.
About dry batteries (AA) x 4 , 4 AA batteries needed, Zumo can be used with both alkaline and nickel batteries, but rechargeable nickel battery is recommended.
■ Eneloop AA size 4 pcs + quick charger set
■ Eneloop AA size 8 set
Custom Zumo Robot set for control experiments (Assembled)
[
TSI-ZUMO-002-A-L
]

Price: US$259.95(tax excluded)
Stock:13