Case (High) for 3ple Decker Arduino
[
TSI-3D-ARD-Case-H
]
【Product overview】
It is a case for Arduino UNO / Arduino Leonardo / Genuino 101 of the Mobile Circuit Block 3ple Decker (Triple / Decker) series that is best suited for prototyping IoT (Internet of Things) products and PBL education (Project Based Learning education).
The height of the case is high so that it can be stored even with the Arduino / Genuino shield which is attached with that.
Regarding the color variations, 5 colors of clear systems and 2 colors of non-transmission system and can choose a favorite color among an abundant variation.
There are pins available for stacking with the case of 3ple Decker series and also attached with the Tamiya Plate.
There is an opening in the upper part and it easy to access it with header pins are easy to access。In addition, in order to suppress the entry of dust into the case, two types of detachable lids that match the opening are included. It is possible to distinguish between two types, one designed for improved breathability and the other with consideration for connecting a pin socket to the GPIO pin, making it excellent in practicality and design.
To attach Arduino/Genuino into the other case attachment is available.
【3ple Decker series】
The 3ple Decker series is based on the design of the Raspberry Pi case products TechShare has traditionally sold,
Module for Raspberry Pi, BeagleBone, Arduino microcomputer board
A universal circuit module containing breadboards and prototype boards
Mobile battery module (soon to be released)
It is a series product consisting of three components & mdash; nantes, the features are as follows.
Excellent detachability between modules that can stack in multiple stages
Mobility that does not depend on power supply by mobile battery module
As a System,functionality of modularized recombination is easy.
【Things can do it with the 3ple Decker series】
Using 3ple Decker series、By stacking the microcomputer board module and various modules, a device can be crated by simple wiring and programming.
For example, by combining a mobile battery module and a microcomputer board module with wireless function, it is possible to construct a cableless computing environment.
Furthermore, by adding a universal circuit module containing sensors, IoT's end device that acquires environmental information can be prototyped.
Also, since each module is not in a state where parts and board are exposed, You can experience Physical Computing with the sense of assembling blocks and can use teaching material of PBL education.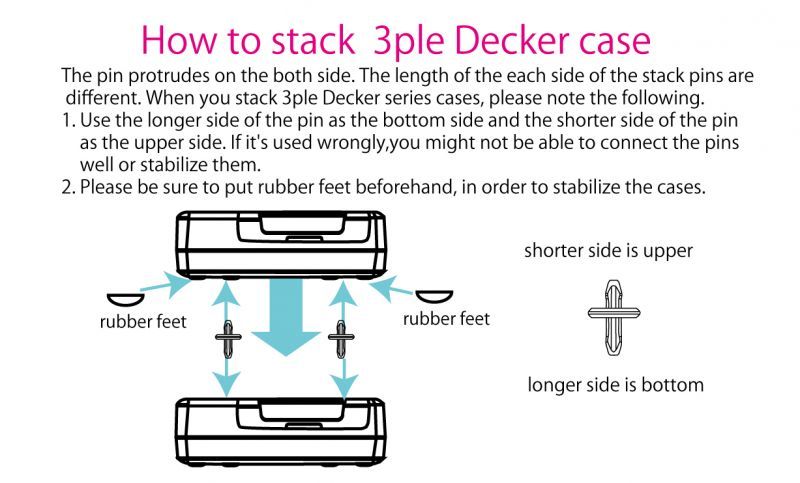 Case (High) for 3ple Decker Arduino
[
TSI-3D-ARD-Case-H
]

Price: US$9.95(tax excluded)